Gocycle - exclusive first hand-on review!




We take the much-anticipated Gocycle for a first-look test ride. Read on for our image-heavy report...


Posted by Peter Eland on Thursday 5 Feb 2009


Thanks to Gocycle's sales director Barney Craggs, I had a chance to take a pre-production Gocycle for a brief ride around York yesterday. We covered maybe five miles, taking in as many hills as could be easily found, and as you'll see above, we visited some of the bird life at the university campus. As there was still snow and slush in places, the Gocycle naturally got a little dirty, so as you'll see the photos show the bike in 'real world' rather than showroom condition!




The Gocycle I rode is one of the pre-production batch: full production models are set to be available in April. Production facilities are now UK-based, which, say Gocycle, should offer major benefits when it comes to flexibility and speed of response to demand. The Gocycle, which will be available through selected dealers around the UK (and overseas in due course), is set to pioneer a new model for service and support. Bikes and parts will be available on a 'next day' basis, and servicing will consist of simply swapping out component modules - if you come in with a faulty front hub, for example, the dealer would simply get a new one the next day for you.

There will be various minor changes for the full production run - the only one which might affect this review was that a rattle from the front brake on the test bike will definitely be fixed.

Overall the design and build of the Gocycle seems very tidy and 'finished' indeed: note the neat sleeves for cable runs, and angle-adjustable stem:




Both front and rear wheels quick-release, using the three catches seen here. You can also see the mechanical disk brake (with a black shroud on the non-sheel side). The disk rotor stays in place when the wheels are removed. The electric assist motor on the right of the hub is hidden in this view:




A cable lock is fitted to the rear suspension shock:




And the rear wheel replicates the set-up at the front. The transmission appears to use a Shimano Nexus 3-speed hub gear, modified for single-sided operation:




We'll have a more comprehensive look at the bike's features and also accessories when we do a full review later in the year, for the June issue of Velo Vision. Why not subscribe now (if you don't already) and make sure you don't miss it?


The ride

So, how did it ride? Here are a few observations based on our short test ride:

- It's a very rigid bike, and feels remarkably stable and solid. The stem assembly, often a weak point on small-wheeled bikes, felt strong and flex-free.
- The 20" wheels were fitted with big fat slick tyres - around 50 mm, rated 60 psi - and I think that helped give it a super robust and stable feel. Just like the Big Apples on my own town bike, they give the feeling you can hit any obstacle and do no damage. Together with the rear suspension, they do a good job for ride comfort. Not quite up to Moulton levels, but smooth on most surfaces.
- The riding position is fairly upright - no bad thing for a town bike. As it happened Barney was about the same height as me, so we didn't need to adjust the bike apart from tweaking the saddle height. The stem is reach and height adjustable. Ergonomic grips were fitted.
- The three-speed gears are operated by a twist-grip, and changes were smooth and easy even under light loads. I found the ratios (35", 53", 71") well suited to urban use, especially if you're happy with a highish cadence. That low gear is certainly good for acceleration from a standstill.
- The electric assist system required the rider to be pedalling for the assist to operate, and for legal reasons it won't assist at over 25 km/h. A nice touch is that it tails off gently as you approach that speed, rather than cutting out abruptly as I've experienced on some other systems.
- The assist motor is engaged by pressing the red hutton to the left of the handlebars: the motor then kicks in after four turns of the pedals. I must admit I found this strange - it's those first four turns where you need assistance the most when accelerating off traffic lights, for example. I also noticed that the motor doesn't have a lot of torque at low speed - so if on a hill start you're still moving slowly, it will struggle to accelerate you. On the same hill, get up a bit of speed first and it will boost you up powerfully. It's also good to speed you up for longer stretches in traffic.
- The motor is quite noisy, but not so much as to be an embarrasment. It does have a loudish whine: other cyclists or pedestrians you overtake will definitely know you've engaged the motor and many looked round to see what it was.
- With electric assist it's still reasonably light at around 16 kg - without it will be 11-12 kg or so, very respectable for an urban bike. Either way it's lighter than my usual unassisted town bike!
- Overall I found it an enjoyable and secure ride, confidence-inspiring in traffic and well suited to the urban environment.


The fold

At the end of our test ride I took Barney back to York train station, where alongside the massed ranks of parked bikes he showed me the sequence to pack the Gocycle for transport. The hard-shell case shown in previous publicity and on the Gocycle website will also be available, and the carry bag shown here was also not yet finalised.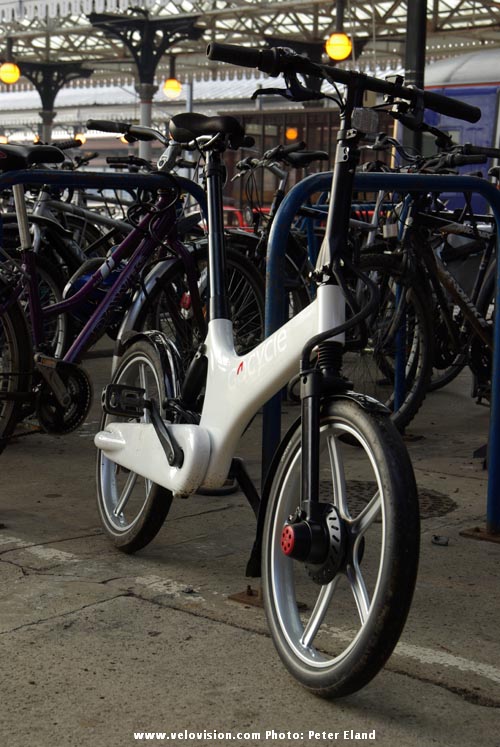 Inside the carry bag is an expanded polystyrene moulding, which supports the bike and parts: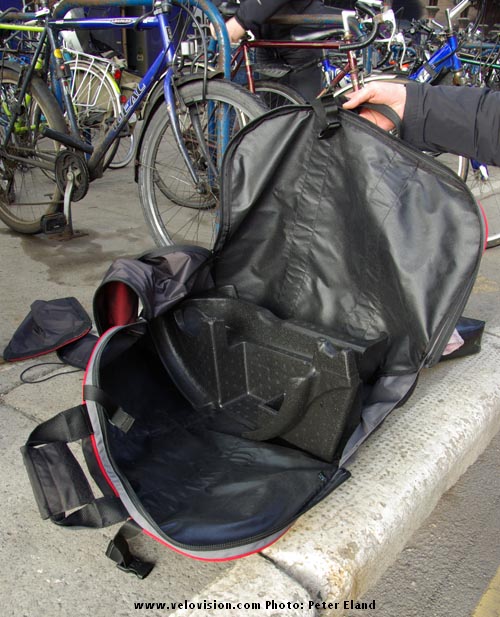 After removing the rear mudguard the rear wheel can be quick-released: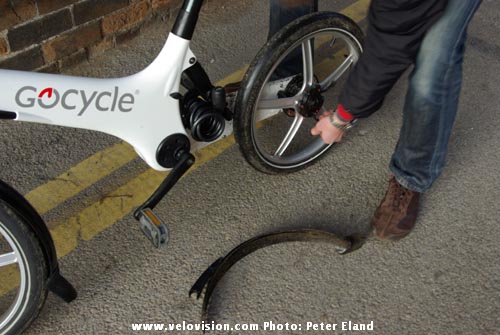 After detaching the front brake cable and motor connection, the whole front fork module detaches just below the headset: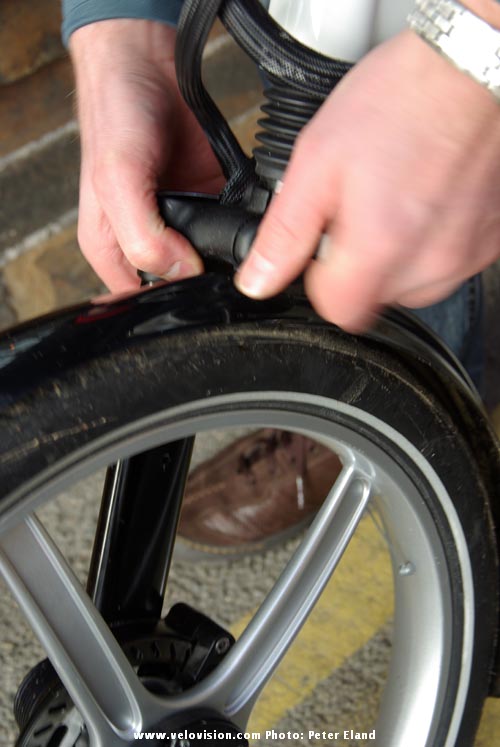 The chassis can now be folded: first unhook the shock from the rear end: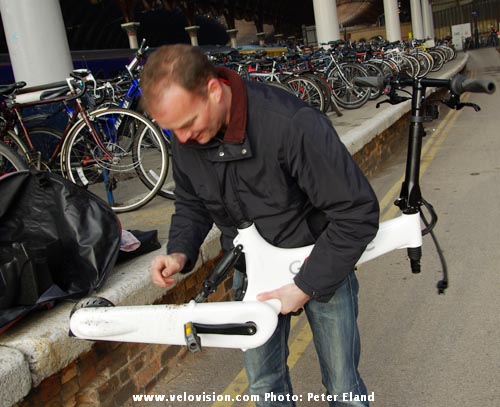 ..and it folds together nicely.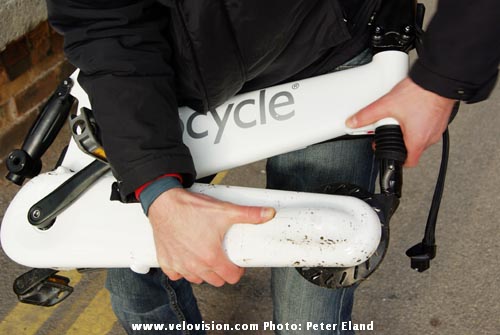 With the stem released, it's ready to be put into the bag: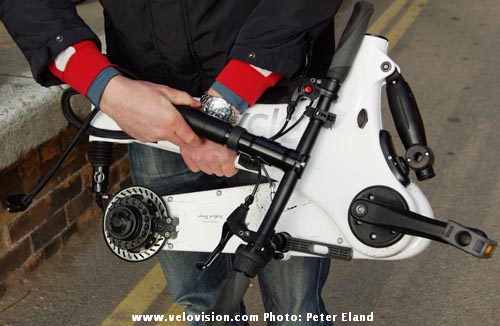 The rear hub nestles neatly into the polystyrene 'cradle', protecting the disks from damage. Wheels fit either side, with the stem slotted in between: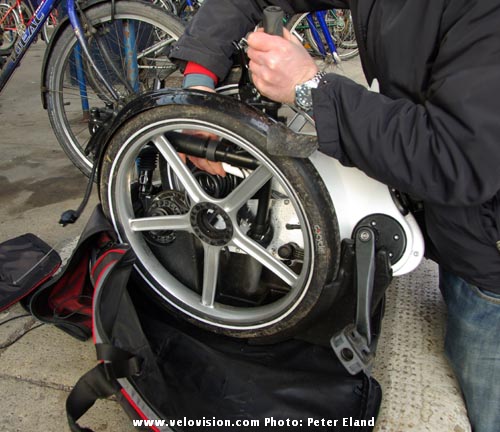 And here it is ready to go onto the train. No tools were needed in the entire process, and it took well under five minutes. Not something you'd want to do every day for commuting, perhaps, but no problem at all for weekend or more occasional use.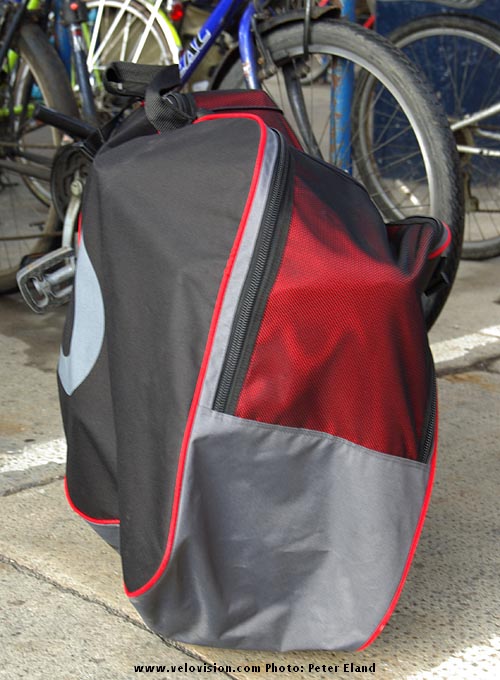 Conclusion
First impressions, based on the prototype, are very good. It can hold its own as a non-assisted bike - and the electric assist adds extra capability and may also be a good inducement for current non-cyclists to give it a go. The enclosed transmission, wipe-clean design and portability are also very appealing. The accessories, including two-leg stand and pannier mounts, will be useful additions.

The pricing, at £1158 with electric assist and around £800 without assist (to be confirmed) seems rather reasonable. It's of arguable value to make comparisons with 'normal' folders, as the Gocycle is a rather different proposition, but it's in line with mid-range Bromptons, low-end Birdies or some of the nicer Dahon models. Perhaps the most comparable bike in design terms is Mike Burrows' 2D town bike, also a compact 20"-wheeled 'designer' machine, custom-built at £1500 without electrics.

The Gocycle is certainly a radical departure for a mass-market bike, and I very much welcome some of the concepts it embodies. The reliability of sealed transmission, easy swap-out servicing and the ultra-modern design are all stand-out features. As a fit rider in a flat city I'm not sure I'd spend out on the electric assist myself, but I can see how many would find it a valuable feature.

Is it revolutionary? Yes, I think it is. Certainly by the generally conservative standards of the cycle industry it's a fresh and exciting departure, and is finished with the professionalism and polish to make it appealing way beyond traditional cycling audiences. I can't wait to see how it develops!

Thanks again to Gocycle and Barney for the opportunity to do this review. As previously mentioned, a full review of the production model will appear in Velo Vision 34 in June. Subscribe now so you don't miss it!


Peter, Any chance of bringing one to BikeRight at Easter? Think it would prove a good sales pitch! Regards.


I'll see what I can do! If I have the main review bike by then I'll certainly bring it along - not sure exactly when it will arrive in April.


I own serial number 060, one of the first of the production Gocycles when Richard Thorpe worked with Asian companies. I'm happy to hear he's now working with facilities in the UK and Europe. The Gocycle is a marvelous design (Thorpe is a genius) and the bike is very comfortable. I've ridden it for several hours at a time with no complaints. Best of all, it's great fun and attracts a lot of attention.


Is there also a quick semi fold option. Or will the user always have to take of the wheels? Are there any pictures available of a person on the bike?


Rogier

I managed to collar Barney and tried one just over a week ago. I liked it and signed up to the 2nd Pioneer offer as a result. (Peter's review very much in tune with my own impressions, except perhaps that the motor noise is not so much of an issue, at least not in a busy London street).

However, the lack of a "quick fold" does limit the potential of this bike.
(I imagine that you could just swing the rear swing arm under the main frame to reduce the length a bit - e.g. to get in into a train doorway area without protruding into the thoroughfare - but you would then be at risk of putting undue weight on the rear mudguard.)

The other thing Peter's review did not mention is that the frame is magnesium. The fire risks can be overstated, but should not be completely dismissed. I'll be storing mine in an outside garage.


See riding position here:
http://www.velovision.com/cgi-bin/show_comments.pl?storynum=974


As per previous comment I'm not too sure about the quick fold: as the stem detaches rather than folds I think any quick fold which left it flopping around would be unhelpful.

I didn't get any action shots this time - sorry!

Re fire risk - will ask them to comment. As I recall magnesium IS dangerous as a powder or at high temps - but it's hard to ignite in bigger lumps, as used here. They'll be applying some serious coatings to avoid corrosion problems, too.


lately I've been wieving the OPTIBIKE.Could you make GOCYCLE any closer fr half the OPTIBIKE price ?


Re magnesium - Following the comment above, Bill Sharp sent (to me and Gocycle) a detailed email to clarify that his concern related mainly to what might happen in the event of a house fire, when temperatures might exceed the (high) ignition temperature of magnesium - burning magnesium could then complicate matters for the fire-fighters (adding water is not generally a good idea).

Richard Thorpe from Gocycle sent this response:

***
"There are many many consumer products on the market today that are made out of magnesium, from laptop computer cases, mobile phones, video cameras, to car seats and golf clubs."

"The widespread usage of magnesium for mass market consumer products would not have occurred if the material posed significantly higher safety risks over other alternatives."
***

It does seem to me that if you're unfortunate enough to have a house fire going which is hot enough to start it burning, a bike's worth of magnesium is unlikely to make all that much difference to the overall situation.


Peter, you say the riding position is "fairly upright", but the animation on the Gocycle website shows the stem angled further forward than on your photos. I wonder if the height and reach adjustment are not independent of each other?

Would the modular design allow the rear hub to be upgraded at a future date, or does the "sealed for life" chain require a return to Gocycle?

Despite Richard Thorpe stating that it is not a folding bicycle I'm glad to see they will produce a bag, and a well designed one too. As long as you spend more time riding it than folding it then 5 mins to pack it into the bag is not really a big deal, especially if you'll spend the whole day in one location.

I agree, the various design features make it a compelling purchase. That's why my order is already in :-)




The Star Trek bike!


Jonathan (on 7 February 2009)

The handlebar stem can be locked in one of three different positions forwards and aft (let's call them near, medium and far). Within those positions, you can adjust the handlebar height. To my shame I didn't check how much, but you can get an idea by clicking the animation on the Gocycle website. (Click the red plus sign in a circle above the saddle; styled "Vgonomic adjustment").

I suppose you could call that semi-independent height and reach adjustment.

As to gear upgrades (if they are ever offered), any upgrade hub would need to be adapted to receive those alluring PitStop(R) wheels.

As far as I can work out, I think that means that if your preferred (suitably adapted) upgrade hub happens to have precisely the same dimensions as the one you are taking out, then a replacement at the hub end would be possible - if fiddly.

So the preferred/practical route will probably be a replacement of the whole rear swing-arm module - either through Gocycle or an authorised dealer.

Yrs non-authoritatively


I worry about the efficiency of the Ni-Mh battery. nowdays electric bikes are equiped with Li-ion battery but Gocycle chose Ni-Mh.
although I was answered that gocycle will produce Li-ion batteried model in one year.
If it comes true in the future, first(April) model owner can use his gocycle just by replacing new type battery? or buy a changed full production?


Considering the total vehicle - weight, range, performance, cost, safety - Gocycle is one of the lightest electric two wheelers available as well as being competitively priced. Considering this is based on NiMh battery chemistry, the inherent safety margin that NiMh offers over Lithium based batteries is a bonus. Lithium batteries will be available as an upgrade option in the future, same battery case same Gocycle frame, but at a higher price than NiMh. The increase in performance will be about 1-2 kgs of total weight savings of the entire vehicle with slightly more range.



Who can I contact for sales in Holland, because
i got a customer who wants to buy it.
hope to hear from you soon


oh il est trop beau se velo la :jantes en magnesium ultra legeres produites a liege en belgique:je suis tres interresse par se model de velo ou peuts-t-on l'acheter et a quelle prix ;je travaille a liege au crm en belgique:merci pour tout renseignement utile:bien a vous.


Denny & Alves Jorge

Denny - If you are feeling charitable, you could direct your client to the special pre-order offer on the Gocycle site, by clicking on "Buy One". (Deliveries to anywhere in the EU - so that's the Swiss feeling left out again.)

Otherwise the Gocycle site has a (fairly hidden) link to a store in the Netherlands: http://www.enjoy-online.nl/

Alves Jorge - you could also use the pre-order feature as follows (translation courtesy Google Translate):
Sur le site Gocycle, déplacez votre curseur vers le bas de l'écran. Attendez un instant. Un menu apparaîtra. Puis, cliquez sur "Buy One". Vous trouverez le pré-commande offre spéciale - Livraison partout dans l'UE.


Hi Peter and all,

This does look an interesting development and I'm pleased to see that security has been considered in its design, but disappointed that it's only a cable lock that has been included! Cable locks are v-e-r-y easy to cut, especially with pocket-sized cable cutters, so they offer minimal security. A cable lock is probably better than nothing, but not if it discourages users to get a more worthwhile chain & lock combination.

Thanks,

Steve. (Director of Pragmasis Ltd - A security product manufacturer that avoids cable locks whenever possible!)


bike does look good, altho for me price is bit out of my range, i livfe in hounslow, would like to know any local stockist in the area of other electric bikes with the small wheels, thanks an heres hopeing. Will.


I love this! What are the costs? In US $$?


It's a shame that it does not appear to have Regenerative braking. With it, it would be more or less perfect.



&nbsp
You must be signed in to post comments. Sign in or register via our forum to create an account.

Search Velo Vision website story archive:
Search full magazine text via the digital edition: